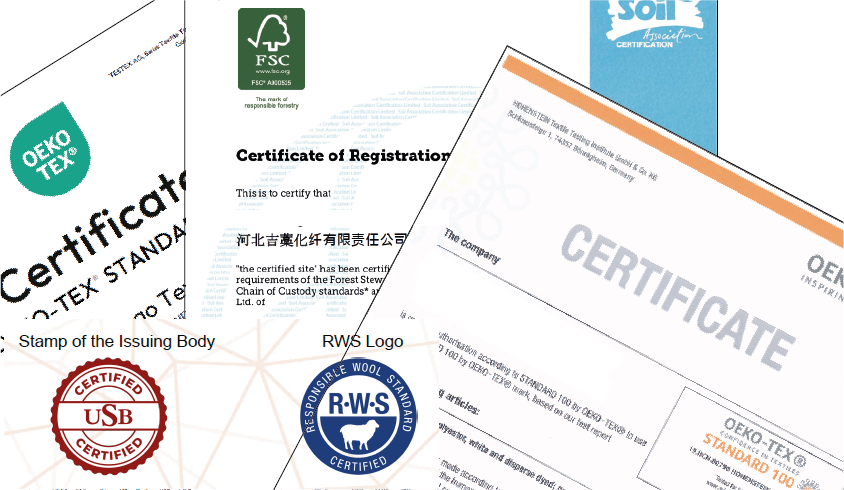 OEKO-TEX Standard 100
An OEKO-TEX® STANDARD 100 certification means that the product meets high human-ecological requirements, i.e., it does not contain chemicals in quantities that are harmful to health. You can label your products with one of the world's most recognized and widely used textile labels. The independent evaluation by leading OEKO-TEX® institutes provides a strong measure of trust for your materials and products. The STANDARD 100 certificate can be the key to new business collaborations since the criteria for OEKO-TEX® STANDARD 100 are often the basis for Restricted Substance Lists (RSL) for retail chains, manufacturers, etc.
Click here to see all our garments that are "OEKO-TEX"


RWS - Responsible Wool Standard
The Responsible Wool Standard (RWS) is a certification program that ensures wool comes from farms with a progressive approach to the care of their land, sheep, and wool. Farms certified under RWS must meet strict animal welfare standards and implement leading practices in environmental sustainability. RWS wool guarantees that the wool comes from sheep that have been treated with care and respect. This includes, among other things, ensuring that the animals are not subjected to mulesing. It also ensures that the sheep are not subjected to unnecessary suffering and have access to clean water, food, and shelter.
Click here to see all our garments that are "RWS"




GOTS - Globald Organic Textile Standard
The entire product is organic and produced under good working conditions, from farmers to retailers and producers.
* Comprehensive labeling
* Requirements for a high percentage of organic fibers, at least 70%
* Requirements covering the entire lifecycle
* Requirements for working conditions
* For example, organic wool or cotton
* No harmful chemicals
* Reduced water and energy consumption
Click here to see all our garments that are "Made in Europe".
Click here to see all our garments that are "GOTS"




Fair Trade
Fairtrade is an international certification for commodities grown in countries with widespread poverty. The certification ensures that the product is produced with regard to high social, economic, and environmental standards.
Click here to see all our garments that are "Fair Trade"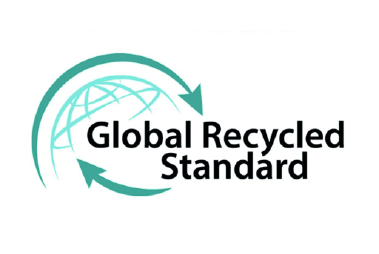 GRS - Global Recycled Standard
The Global Recycled Standard (GRS) is an international, voluntary standard for third-party certification of products with recycled content. During the certification process, the supply chain, social and environmental management, and chemical usage are reviewed. The goal of GRS is to increase the use of recycled materials in products and eliminate the harm that can be caused by their production. GRS is intended for products that contain at least 20% recycled material. Each production stage is verified during the certification process.
Click here to see all our garments that are "GRS"


FSC - Forest Stewardship Council
Forest certification means that an independent party verifies that forest management meets requirements according to a specific standard. FSC (Forest Stewardship Council) has standards for forestry and traceability. The certification itself, which involves monitoring compliance with the standards, is conducted by independent certification bodies. Our materials in Tencel and Bamboo are FSC certified, meaning they meet the sustainability criteria set by the FSC for responsible forest management.
Click here to see all our garments that are "FSC"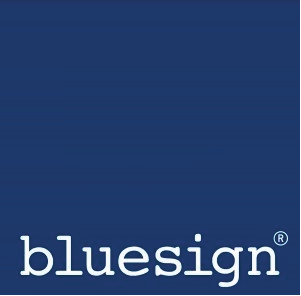 Bluesign
Bluesign® originally started as a project within the Swiss textile company Schoeller but has been owned by Bluesign Technologies AG since 2000. The Bluesign® system takes a holistic approach to the textile supply chain. Products and materials that are bluesign® certified have undergone checks on all individual components to ensure they do not contain hazardous chemicals. This means that it's not just the finished product that has been tested. Before the production of a product begins, thorough analyses of the various components are conducted. This allows for the substitution of chemicals deemed problematic before production starts.

The evaluation criteria for bluesign® focus on resource efficiency, environmental protection, occupational health and safety, and consumer safety. As a consumer, you may come across two different types of labels that both guarantee the fulfillment of these criteria. The first is Bluesign Product, which ensures that the entire product, including fabric, thread, and label, meets the criteria. The second level is called Bluesign Approved Fabric, and this label ensures that at least 90 percent of the fabric content meets the requirements.
Click here to see all our garments that are "Bluesign"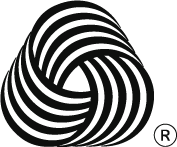 Woolmark
The Woolmark certification indicates that either the raw material or the product has been tested and meets high standards for wool quality. Woolmark is the world's most renowned brand for textile fibers and is considered a symbol of quality and reliability worldwide. Woolmark is a global organization that ensures consumers receive a wool product containing pure and new wool.

Before a manufacturer can use the Woolmark symbol on their products, they undergo rigorous tests of quality and performance. They must meet the high standards set by The Woolmark Company.
Click here to see all our garments that are "Woolmark"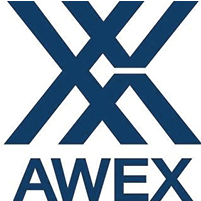 NWD - National Wool Declaration
The animal welfare issue of mulesing has been of interest to the supply chain since 2004, and the Australian sheep and wool industry has made a strategic commitment to developing and implementing alternatives to mulesing. The Australian wool industry has been at the forefront of responding to changing global customer demands and attitudes by supporting a fully informed market.
Click here to see all our garments that are "NWD"




BINOIC FINISH ECO
BIONIC-FINISH® ECO is an innovative product that provides textiles with water-repellent treatment without using fluorinated substances. Unlike traditional impregnations, which typically rely on fluorine chemicals for their strong water-repellent properties, BIONIC Finish Eco utilizes a fluorine-free formula.

This product is based on a smart strategy where branched hydrophobic polymers, chemical compounds with very long chains, are employed to mimic the structure of branches in a treetop. These polymers work together to create a protective barrier on the surface of the textile. The resulting arrangement of polymers acts as an efficient and natural water-repellent layer.

Through this intelligently designed protective system, the polymers form a structure where water molecules cannot penetrate. This is because the size of water molecules is larger than the space provided by the branched arrangement of polymers. This natural and effective water-repellent function is clearly illustrated in the accompanying image.

BIONIC-FINISH® ECO thus offers a sustainable and environmentally friendly solution to protect textiles from water while avoiding the use of harmful fluorine chemicals. It paves the way for a more responsible and ecological approach to textile treatments.


Free from fluorocarbons

Water-repellent

Free from formaldehyde and paraffin

Click here to see all our garments that are "BIONIC FINISH ECO"