Hiker Merino High is a slightly higher hiking sock made form no less than 72% mulesing-free merino wool

and is therefore great at keeping your feet comfortably warm, dry and odour-free, even for long periods without washing. Our Hiker Merino Mid High Socks

are terry-knitted and excellent for both tough hikes and colder days out in the open.



Features
• Mulesing-free merino wool for warmth, reduced washing and odorless feet
• Natural antibacterial
• Terry knit for maximum insulation


• Made in Sweden



Fit
Height to calf, molded to your feet.

Weight
40 g

Other
Material: 72% mulesing-free merino wool, 23% polyamide, 5% lycra


Certificat

: I

SO 14001, G.O.T.S, bluesign, Oeko-Tex Standard 100.




Sizes: 34-36, 37-39, 40-42, 43-45


Made in: Sweden

Washing instructions
40° woolwash. Wash in and out together with similar colors. Do not use fabric softener. Do not tumble dry.

Our sustainability work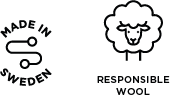 Made in Sweden
The product or parts of the product is made in Sweden.

Responsible Wool
At Röyk, we have a profound love for wool, whether it's Swedish or Norwegian wool, or German or Australian merino wool. The Responsible Wool icon shows that the product is made from RWS-certified wool. RWS stands for Responsible Wool Standard, which is a certification program that ensures wool comes from farms with a progressive approach to managing their land, sheep, and wool. Farms certified under RWS must meet strict animal welfare standards and implement best practices in environmental sustainability.
The RWS certification guarantees that the wool comes from sheep that have been treated with care and respect. This means that the animals are not subjected to mulesing, a painful and inhumane procedure that involves cutting away strips of skin from the sheep's hindquarters to prevent flystrike. The RWS also ensures that the sheep are not subjected to unnecessary harm, and that they have access to clean water, food, and shelter. In addition to the animal welfare benefits, RWS wool is also produced in an environmentally responsible way. Farms must implement practices that promote biodiversity, conserve water, and reduce the use of harmful chemicals. This means that RWS wool is a great choice for those who want to minimize their impact on the planet.
Choosing RWS wool means supporting farmers who are committed to responsible and sustainable practices, and ensuring that the wool you purchase is of the highest quality and ethical standards.